Laurent Moreau Illustration Essay
Description
Tirages de l'exposition collective: Sur la piste de Daniel Boone  (2015)d'après l'œuvre de F. Rojankovsky.
1 tirage en sérigraphie sur papier Lana: page titre en 2 couleurs et « couverture » en 4 couleurs.
Série limitée à 10 exemplaires numérotés et signés
Papier : 300 g
Format :  34,5 x 55cm
Illustration : Laurent Moreau
Tirage : Gargarismes / Pierre Faedi
Expédition France : 15 jours
Expédition Europe et monde : 3 semaines
1 Print of the collective exhibitionOn the trail of Daniel Boone(2015)inspired bythe book of F. Rojankovsky.
2  colors Screenprinted, signed, numbered  and limited to 10 copies 

Paper : 300 g  on Lana paper

Format : 34,5 x 55cm
Illustration :
 Laurent Moreau
Printing : Gargarismes / Pierre Faedi


Delivery Europe and world : max 3 weeks
Pas de frais de port / Free shipping fees
Pour les commandes en juillet et août les délais d'expédition peuvent atteindre 5 semaines / In July and august,  delivery may take up to 5 weeks

Laurent Moreau studied at the School of Decorative Arts in Strasbourg, and now shares a studio in the city with a group of illustrators. As well as working as an editorial illustrator and graphic designer, Laurent has created many successful children's books with publishers such as Actes Sud, Rouergue and Hélium.
In this post, Laurent talks about the creation of 'Dans la forêt des masques' (In the forest of masks). This highly original picturebook is published in France by Hélium, and translated into a number of languages. An English edition will be published in 2016.
Visit Laurent Moreau's website
Laurent: The idea of doing a book about masks was in my thoughts for several months, or perhaps even years.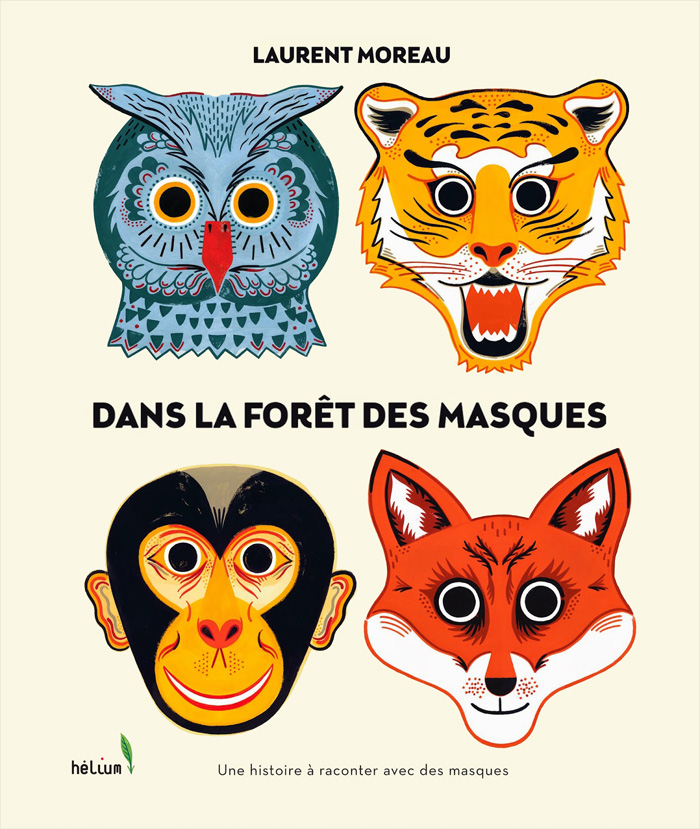 I've been collecting images of masks from various places for years: Inuit masks, Chinese theatre masks, African masks and other contemporary masks. I particularly love the masks designed by the artist/illustrator, Saul Steinberg! And I'm a fan of the paper-bag masks invented by the artist/illustrator/designer, Fredun Shapur. Also, I'm a big admirer of popular imagery, folk art, naïve art, old engravings, and paintings by naturalists.

I started drawing and making paper masks for myself, as graphic objects, for personal research, and without any idea of publication or for any other project. I also made some papier-maché masks. These were a lot of fun to make: very recreational!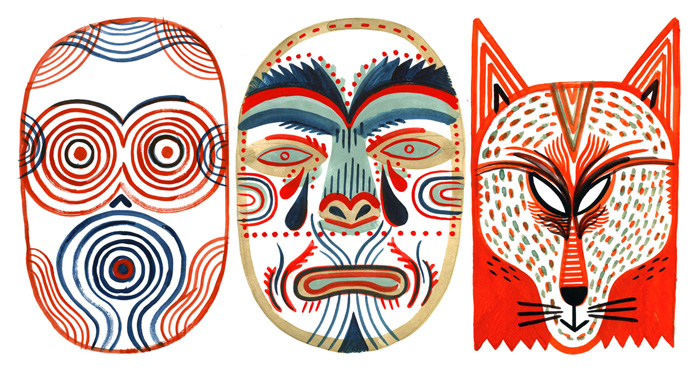 I showed these creations to the editor at Hélium éditions, a French publishing house with which I'd already published several children's books. She liked them. I also told her that I wanted to find a way to gather a series of masks in a book; I wanted these masks to be worn and to form part of a simple story. The readers could become the protagonists and invent their own adventures. My editor encouraged me with this project and suggested we brainstorm together on the design. It seemed unique; I was very enthusiastic!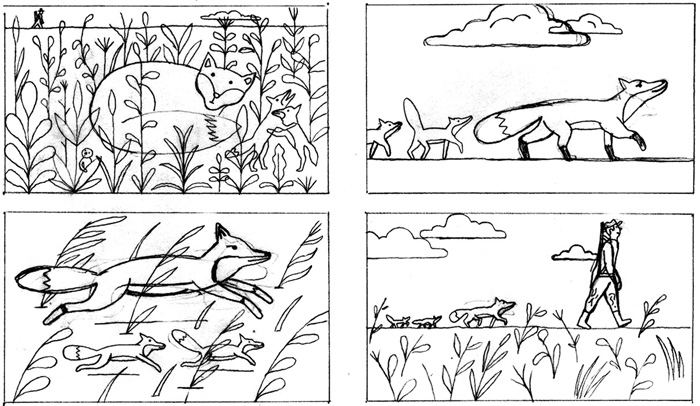 From that point on, the project became more serious and I started thinking about possibilities for stories. I drew sketches of the characters and I did some research. I imagined several scenarios and designed a total of fifteen characters, but ultimately decided to keep just one story and a dozen characters. The central character – a hunter – would form the narrative thread.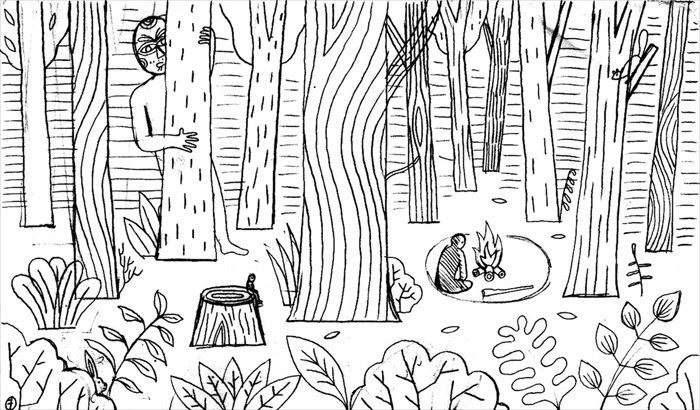 The hunter in the story is nice but fearful. Basically he doesn't really want to hunt animals. He walks, he eats, he sleeps, he dreams, he's lost, he's afraid… The roles become reversed because at the end the hunter is hunting in the forest with the animals!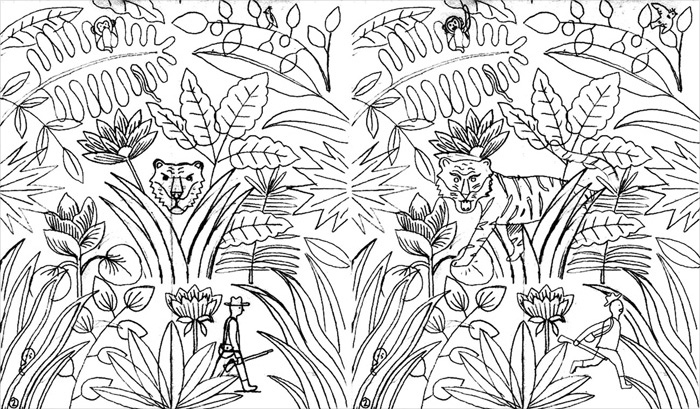 After drawing all the sketches and setting the course of the story, I wrote – with the invaluable assistance of my editor – the text that was to accompany the illustrations. She helped me a huge amount! I must thank her again!
Then came the time to work on the final illustrations. I chose to work with gouache, which over time has become my main technique. (It's sure to change one day!) For this project I wanted to get closer to the look of old illustrations printed in spot colours, such as those of the illustrator, Rojan (his real name is Feodor Rojankovsky). I paid attention to graphic narrative illustrations with few colours, simple shapes, solid colours, fineness, and precision of course!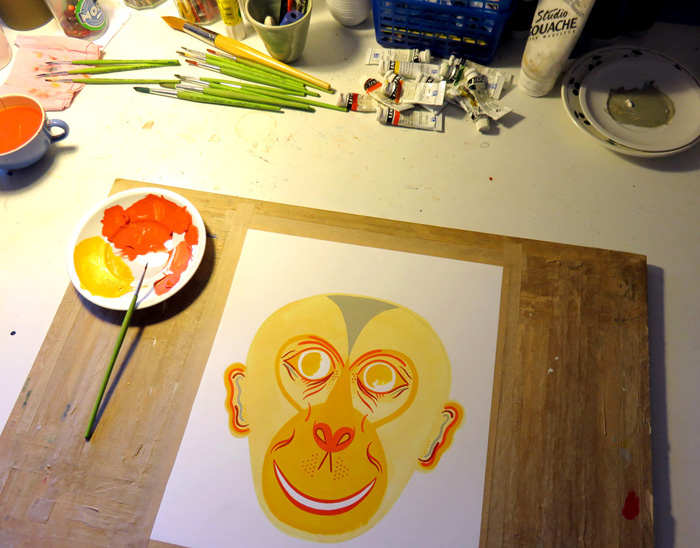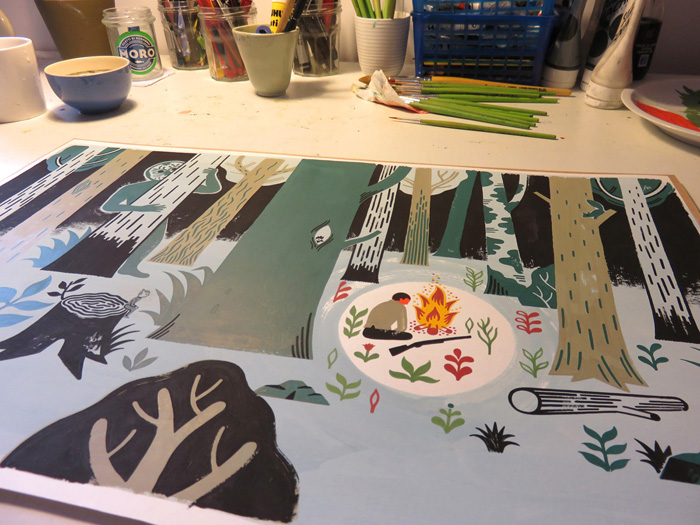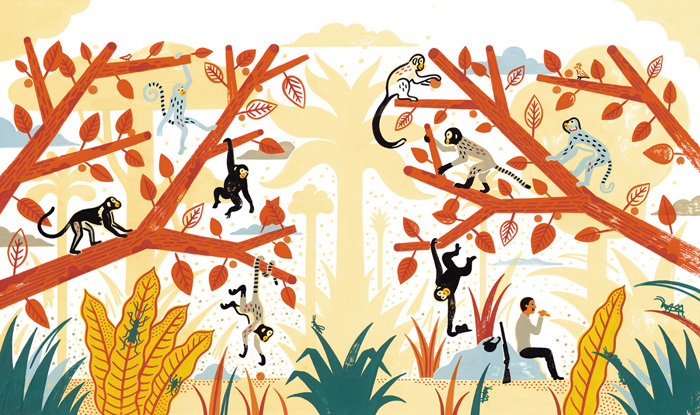 A small development I made in this book is that I wanted some scenes to be retold by borrowing techniques from sequential narrative, unique to the comic. I never felt comfortable with comics before, but using these sequences in just four cases for this book was okay!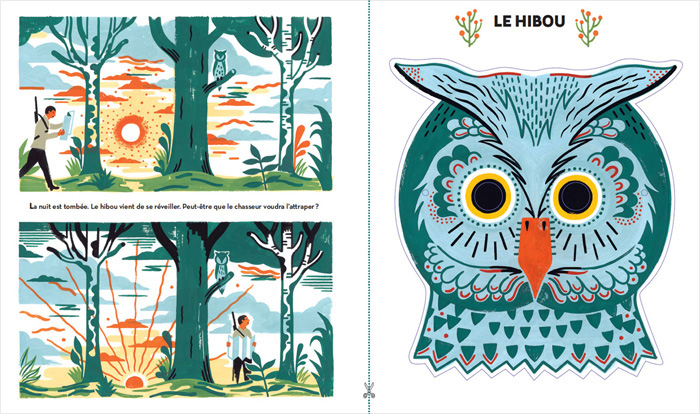 This is not my most personal book – others were more intimate – but it's perhaps one of my most successful ones, graphically.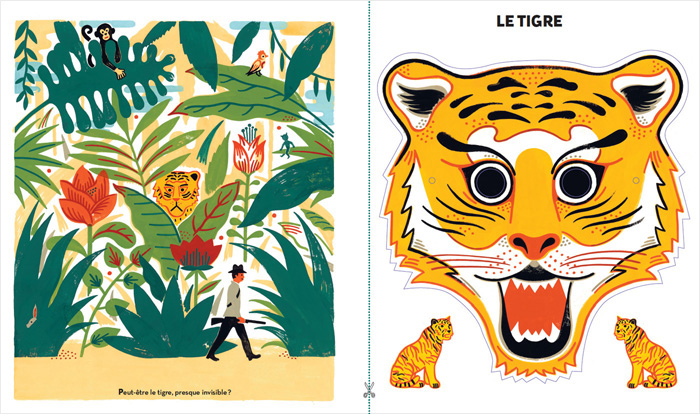 To describe the structure and story of 'In the forest of masks', I'll talk a little about the inhabitants of the forest, who each have a meeting with the innocuous hunter. The book is a large format, and each character is highlighted on a double-page spread with a detachable mask featuring their image. It's a bit like a game-book. The masks and the book can have two lives. For the masks: they're fun to wear with the story and they're fun to wear imagining new stories. For the book: it can tell the story using the masks or it can tell the story without using the masks…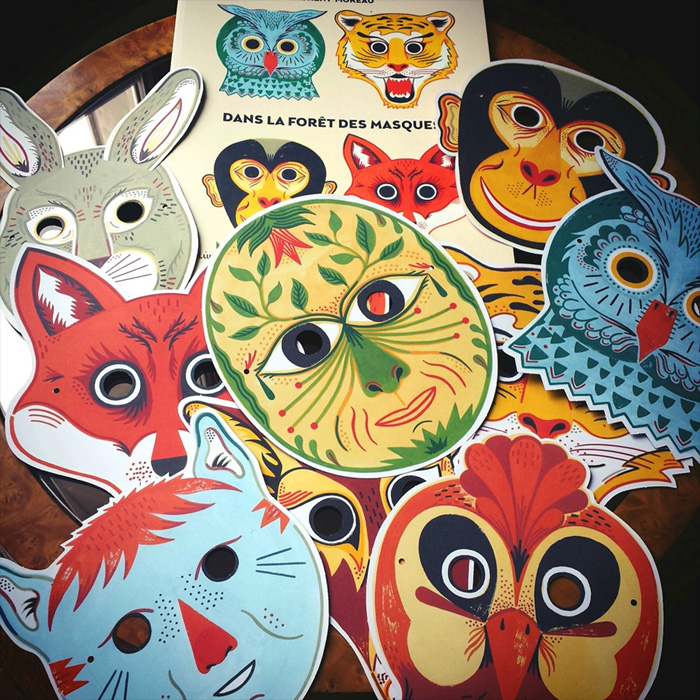 Well, read on and have fun!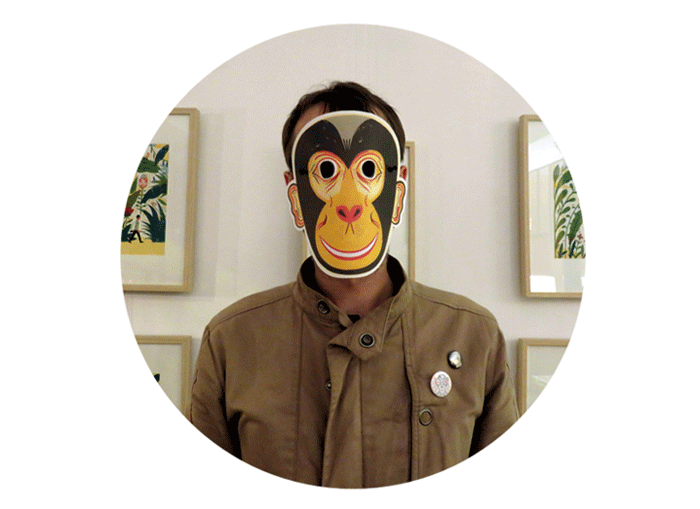 Illustrations © Laurent Moreau. Post translated by Gengo and edited by dPICTUS.