Use the Mastering assignments calendar
Setting dates for assignments even before students enroll provides the advantage of displaying all assignments in the Mastering Gradebook, and enabling you to align the total points for Mastering assignments with your syllabus. For considerations about availability dates, see Make an assignment available to students.
Note: Only the following kinds of assignments appear in the calendar: standard Mastering assignments, Adaptive Follow-Up assignments, and Dynamic Study Module assignments. Scores for Offline Activities and Learning Catalytics sessions can be included in the Mastering Gradebook, but they cannot be added to the calendar.
Unless indicated otherwise, you can complete all of the following tasks from the calendar that appears on the Mastering Course Home or the Assignments tab.
Schedule or delete an assignment

To schedule an assignment (Assignments tab only)
If necessary, advance the calendar to the month in which you want one or more assignments to be due.

Drag an undated assignment onto the calendar, to the date the assignment will be due.

Assignments with dates appear at the top of the list in chronological order, followed by undated assignments in alphabetical order. An undated assignment displays dashes instead of a date. When you point to any listed assignment, your pointer changes to a move icon, often a 4-pointed arrow. View an image

Accept or edit the time the assignment is Due on the selected date, and, if applicable, the From and Until dates and times for availability to students for work or review. View an image

The default availability dates and times are:

Due Time = 11:59 pm in the time zone specified in the course settings for this course. If students are in different time zones, caution them to observe this deadline time, not their local time.

From = One week before the due date and time.
Until = Last day of the term. Consider accepting this date so students can review the assignment later.

To reschedule an assignment
Use either of the methods described in the following table.

An Adaptive Follow-Up assignment is automatically rescheduled when you drag its Parent assignment to a new due date.
Method
Advantage
Drag an assignment from its current due date to a new due date in the same month.

Quick and easy from either the Course Home or the Assignments Calendar View.

You might do this if your due dates should be Tuesdays and Thursdays, and you are using a copy of a course that has due dates in the same term on Mondays and Wednesdays.

Assignments Calendar View only

Advance the calendar to a different month to which you want to move the assignment.
Drag the assignment from the list on the left to the new due date.

You can drag an assignment to a date several months away from the original date.

You might do this if you have copied a course with assignment dates from a previous term.

To delete an assignment (Assignments tab only)
From the actions menu, click Delete Assignment. If the assignment has an Adaptive Follow-Up, the Follow-Up will be deleted, as well. If you want to retain the assignment, but delete only the Follow-Up, click Delete Adaptive Follow-Up.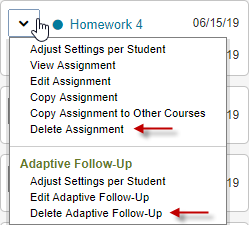 Important: If you are working with a copied course, be sure to delete any regular assignments that you don't intend to use in the new course. Doing so eliminates the possibility of inadvertently sequestering items in those assignments.
Examine assignments from a calendar or list view

To check assignment properties, status, and category
Colored shading on the calendar distinguishes among assignments that are not yet due and those that are past due as follows:
Not yet due standard Mastering assignment, Adaptive Follow-Up assignment, or Dynamic Study Module assignment
Past due assignment of any type
For details, point to an assignment on the calendar to display the information described below.
The full title of the assignment
Password and time limit icons, if you have specified these settings
The due date and time in the time zone for the course
Status of Available or Unavailable, which shows whether students can see the assignment now as you are viewing the calendar
Availability dates when the students can see the assignment to complete it or review it later
Category of the assignment

For specialized assignments, the same data is displayed, with minor differences:

Adaptive Follow-Up assignment: Availability dates begin when the Parent assignment is complete or the due date/time passes, and the category is always Adaptive.

Dynamic Study Module assignment: Is always available to students, and the category is always Dynamic Study Module.

To switch to the List View (Assignments tab only)
Click List View above the calendar. On the List View you can:
Sort all assignments in the course by #, title, category, or due date/time
Drag assignments into a different sequence and then edit dates
If you copied a course without copying assignment dates, sorting by # is a good way to list assignments in their previous instructional sequence before you assign dates.
About student assignment access
Students can begin working on assignments as soon as you make them available in the course.

How students access assignments from the Course Home
Students can easily check for and open available assignments from their Course Home. (Unlike instructors, student view no longer provides an Assignments tab.) Depending on their preference, students can choose between a list or calendar view of assignments.
The student List View option (the default) organizes assignments in the sections Past Due Assignments, Upcoming Assignments, and Completed Assignments. Students can open available assignments and check their completion status for assignments listed within these sections.
The student Calendar View option provides both a monthly calendar (with assignments indicated on due dates) and a daily agenda (to the right of the monthly calendar). For today's date, the daily agenda may show a message like "Nothing due today", "Next assignment due in x days", or "2 assignments due in 5 days". Students can also open available assignments and check their completion status from the daily agenda.
For more about the student Course Home and assignment experience, check out the Mastering Help for students.
See also:
Create a new assignment | Add/Edit an Adaptive Follow-Up | Edit dates for multiple assignments
Copyright © 2018Pearson Education, Inc. All Rights Reserved. Pearson Higher Education | End User License Agreement | Privacy Policy | Permissions | Accessibility
Great! I love My Study Life!! It is the most helpful app for students!!
Hannah KingGoogle Play
This app has lots of useful features that normal calendars don't. This helps me organizing tasks and I feel I get much more things done with this app.
高橋渉Google Play
University Life Saver. Helps you not to forget when your next class, assignment or exam is. Once you've mastered how to set your timetable it's amazing to keep you on track.
marcF6iOS App Store
Seriously awesome. From the concept, to the implementation- every details has been well thought of. A solid app that actually delivers.
AnonymousWindows 8
Easy to use. HUGE potential. I highly recommend this for any student who finds it difficult organising assignments and find time keeping a problem.
Totally TheatreGoogle Play
Not only is this app amazing at organizing all my class's and exams and assignments, but it's also free. And there is nothing to buy where you get it. It is by far the best study calendar I have ever had. I strongly recommend this.
Alexis WilsoniOS App Store
This app has been a life saver, no longer do I need to carry a cumbersome planner or have to switch through multiple apps to put in dates and a to-do list.
NekoChan713iOS App Store
You need to invest a little time to set it up but it is worth it. So far this has been an extremely handy way of keeping track of everything university related. The offline mode is invaluable.
SofianeWindows Phone
Very good app to organize my work with a clean UI. Plus the cloud sync across devices is top. The best of its category, it gets the job done.
JeremieWindows Phone
Really good, I've tried a few similar study organiser apps and this was by far my favourite :)
AnonymousChrome Web Store
The app is easy to use and its made my life a lot more organised. I would definitely recommend it to anyone who struggles to keep up with deadlines.
AnonymousWindows 8
You can really depend on this app, store your college to do, time tables and other information. It manages it well and reminds you of tasks due. Great stuff.
Jakub NiemiecGoogle Play
A very good app, with all of the features needed for a good planner! Recommended for anyone at secondary and above! You can enter tests, assignments and homework. Very well made!
AnonymousWindows 8
A long time coming... But well worth the wait. Love this app and can't wait for school to start so I can start using it!
Yonatan WeissiOS App Store
This may sound corny, but this app has changed my school life and I've never been so organized!
Nicholas GerstungGoogle Play
So helpful you'd think you paid for it!
Loren ThomasGoogle Play
Ever since I began using this app, I've become much more organized and on schedule with everything that I need to do. I would highly recommend this app to any student and especially college students.
AnonymousWindows 8
Really functional app, great layout and covers the essentials in planning for academic success. Glad I found this, it's really convenient!
BigDog1248iOS App Store
If you hate flipping through all your syllabuses to look when assignments or exams are then this is your app.
AnonymousWindows 8
Love the ui, and the features. The fact that it's free and is not overflowing with adds is awesome.
Ammar MuhammadGoogle Play
Brilliant 2nd year of uni and wondering how I ever planned anything before this app... It may have just saved my life :D
AnonymousWindows Phone
I used to be very disorganized. Always missing assignments, forgetting about tests, and almost always forgetting where my classes are. This app has helped me stay on track with exams and assignments.
Jayce ComlyGoogle Play
Great app, actually keeps me organised! Ability to use alternating weeks and simple interface really helps
OwenWindows Phone
Love it! This app helps me keep my schedule organized and helps not to forget important dates in my chaotic life! Couldn't live without it!
Stephanie HaynesGoogle Play
This app keeps me organized and I love it. I particularly like how it gives me reminders and how it integrates with my schedule.
AndreaWindows Phone
I cannot express how fulfilling it is to see a capable app in the Store to do everything this app does. You can program in a schedule and the devs actually KNOW how schools work, not just guess.
AnonymousWindows 8